Customer Engagement is a hot phrase – yet there's little consensus about how to use it. For us, it goes back to the earliest days of direct marketing. We need to gather information about our customers, understand their preferences and meet them with messages and offers that are highly relevant to their unique needs. Then, these customers need to respond to these messages and offers, whether by taking the prescribed action, or telling us what they think in another way. No matter if it's online, mobile, social, or more traditional channels, engagement is a two-way dialog.
Alongside Brierley+Partners clients such as GameStop®, we launched a revolutionary digital messaging platform where partners pay only when users actually view and respond to messages. The Rewards for Engagement® portal allows marketers to reach customers and prospects with a message and be certain that they viewed and considered its content.
From a loyalty program member's perspective, the portal gives them an opportunity to receive loyalty currency for the time they spend viewing and considering messages. This Rewards for TimeTM currency can help increase member satisfaction with the program, facilitate deeper relationships, and provide a platform for learning about new products and services.
Launched in 2013, the GameStop portal, branded PowerUp Rewards XP (Xtra Points), was the first Rewards for Engagement portal that is integrated with the brand's website. Members of PowerUp Rewards earn points for the time they spend viewing and responding to messages and offers from GameStop, game publishers, as well as non-game related partners.
Our Rewards for Engagement platform can be named uniquely for your brand, or we can license our Engagement Gateway® or Offer Gateway® marks to name your platform for delivering advertising messages to your customers or members of your loyalty program.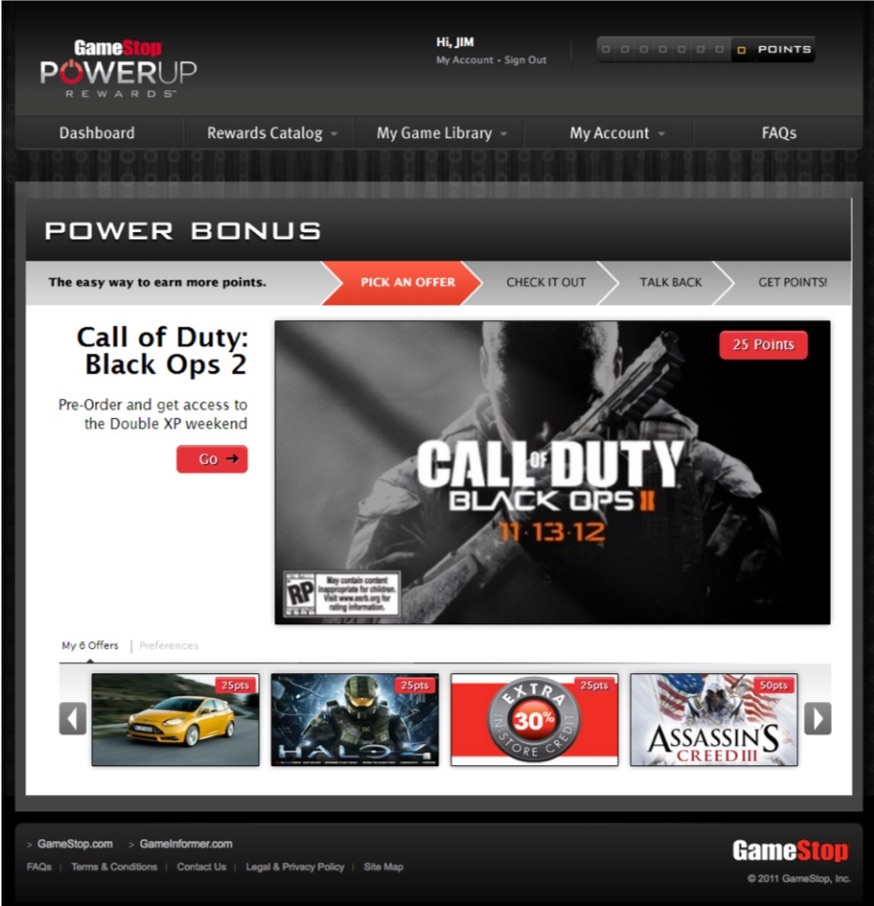 If you are interested in learning more about our Rewards for Engagement® platform, please contact us.